Just Do You Book
Welcome to my book!
Just Do You: Spirituality Made Easy is a fuss free and clearly explained summary of what I teach from my international empowerment seminars to intimate development groups. It brings together my own learning over 20 years of clairvoyant and self discovery work and shares keys to accessing, extending and utilising your own gifts in usable, day to day contexts and harnessing your own energy.
It is a simple read through of ideas, exercises and direction for self empowerment which builds confidence, self esteem and peace. It shows you how to get more access to your guides and support team, ways to reduce stress and anxiety and allows for happiness and truth to be accessible.
Its only $5 US for a kindle version and can be used with or without my companion Empowerment Cards.    Just Do You on Kindle Edition Amazon!
The paperback "illustrated edition" (there is also a simplified 6×9 which is inexpensive) is beautiful, 8.5×8.5″ and contains the Empowerment Cards as pages within the book so you have the added tool of using the book itself as a pick-a-page support technique built in for you to use immediately.
Included is a 20 page a Re-Frame Journal to support your confidence and your journey back to yourself!
$15 USD and just beautiful!  Stunning Illustrated Ed on Amazon
All the best on your journey back to yourself!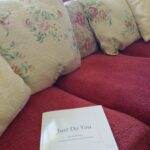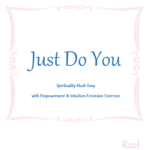 Purchase my Empowerment Cards
I have created a set of Empowerment Cards to support your development and strengthen your intuition. Simply choose a card randomly when you need guidance and then take the step to support yourself with your own innate connection.
Support & strengthening, these are not predictive or even spiritual.  They are a support to you in everyday life.  With simple ideas for you to know what to look at in any situation or reminders of how to test things against your self for self esteem, development and stronger connection to your own intuition.
Cards come in discrete, purse and pocket sized format with around 40* cards.
Pocket sized 7x5cm in a white hearts organza bag $15 incl postage in NZ
Optional bag extras – blue butterfly organza bag +$2, larger unicorn-white satin bag with my Tree of Life +$5
Email orders for cards and postal address to me and I will forward you PayPal or NZ Bank account details – via my contact page HERE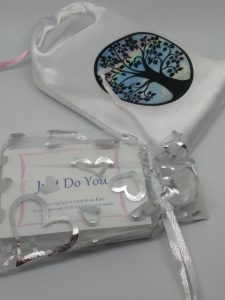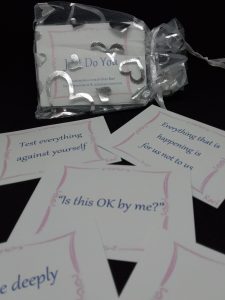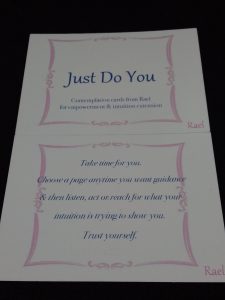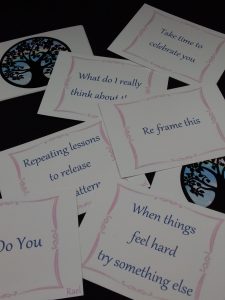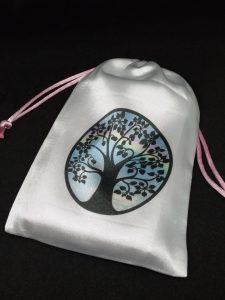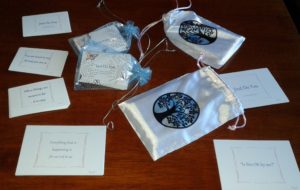 * (deck includes instructions and 2 blanks for personalising – so you can add your favorite empowerment or support sayings and affirmations)